Ricky Nolasco was placed on the DL with a sore right elbow. One of the key concerns was Nolasco was not getting the velocity he had last season on his pitches. The Marlins are expecting him to return in a few weeks.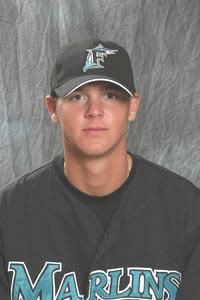 In the meantime, we will just have to deal with Rick Van den Hurk being called up to make his major league debut against the Brewers tonight.
Of course, I am being fascetious as Van den Hurk has quietly been one of the Marlins top prospects. A native of the Netherlands, the "Dutch Destroyer" is 6'5″ 195lbs with great velocity. The 21 year old was supposed to start the season at AA Carolina, but was told not to throw prior to his scheduled start.
Van den Hurk has a 5-12 record with a 3.47 ERA over 4 minor league seasons. He was signed by the Marlins out of their Dutch academy when he was only 17, turning scouts' heads at an early age.
In Winter ball, he put together an impressive stint for the Waikiki BeachBoys in Hawaii Winter Baseball. Van den Hurk went 2-2 with a 3.60 ERA and tossed a league-leading 63 strikeouts, also holding opponents to a .162 batting average. He also twice won Player of the Week honors on his way to the HWB All-Star team.
In 8 combined starts last season, split between the GCL Marlins and the Jupiter (A) Marlins, he had a 14.79 K/9IP as well as a .92 WHIP and 1.80ERA.
Van den Hurk has been touted as a very strong prospect with a pretty high ceiling as a starter. He will get the chance to at least get his feet wet tonight. The question is, will he prove to be another Marlins diaper dandy and make a case to stick with the big club? We'll see.